Grow Your Business With Our Powerful Virtual Private Servers
Take control of your virtual environment while enjoying the flexibility and scalability of our powerful VPS hosting solution.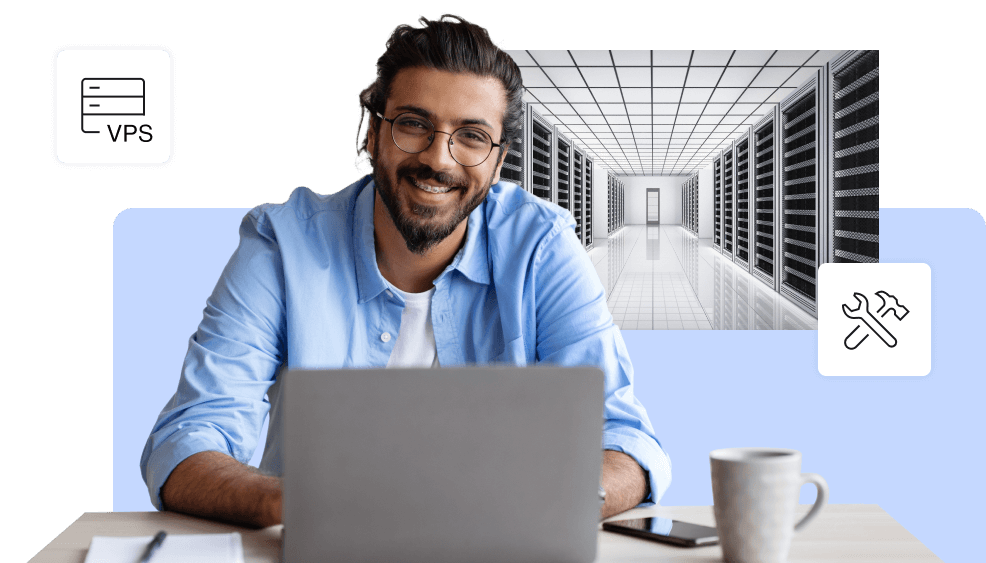 Self Managed VPS Servers Plans
Where is your website traffic coming from? Learn More
India
USA
1 month
3 months
6 months
1 year
2 years
3 years
Benefits of Self Managed VPS Plans
Enjoy one a kind benefits with our VPS hosting plans
Powerful VPS add-ons
Backup, protect, and recover your data on the cloud, starting at Rs.15/GB/mo
Expandable SSD from 10 to 500 GB starting at Rs.15/mo
Integrated cPanel
Our VPS Hosting Servers are built with high-performance computing solutions
SSD storage drives and top-tier network links
Fully optimized environment for rock-solid performance
100% Control in Your Hand
Get administrator access to your hosting environment, along with the ability to install custom software without any restrictions
Additional resources include - Rebuild Web-based VNC, Restart, Shutdown, Resource Monitoring and much more
Instant Server Provisioning
Set up your server instantly post purchase
BigRock's VPS Servers Technical Specifications
Superior Network
Our VPS Hosting comes with a superior network, designed with multiple credible ISPs to ensure high stability and integrated DDoS protection to eliminate failure risk - all this and more at NO ADDITIONAL COST!
Advanced Server Hardware
Boost performance with our advanced servers equipped with SSD storage for improved computing and memory.
Scalable Resources
Our KVM-based Linux VPS Hosting ensures guaranteed and consistent performance with the option to scale resources as your business grows.
Secure Environment
All VPS Hosting servers operate in complete isolation and allow you to further boost server security via cPanel/Plesk.
Compare Self and Fully Managed VPS Plans
Check out the comparison table and choose the best option for you.
| Server & Application Setup | Self Managed VPS | Fully Managed VPS |
| --- | --- | --- |
| Basic server setup with pre-installed control panel | | |
| Configured core services | | |
| Configured local & offshore backup | | |
| 3rd party application installations | | |
| Assistance to configure FTP and email clients in their local system | | |
Compare more features
Frequently Asked Questions
VPS Server Hosting utilizes virtualization technology to create isolated virtual machines with dedicated resources and full root access, providing the features and functions of a dedicated server at no extra cost. It serves a wide range of purposes, including upgrading from Shared Hosting, hosting websites, CMS platforms, custom applications, test environments, and more. 
With Bigrock's VPS Hosting, your website enjoys essential features such as full root access, guaranteed CPU, RAM, SSD storage, network stability, and management options like Stop, Restart, and Rebuild for complete server autonomy. 
We provide assistance for server-related queries, including server boot, network, login, and hardware. You may contact our support team through our dedicated support channels. Our team will be happy to assist you with any queries or issues you may have.  
For support concerning website or application code, please reach out to your web developer or a local server administrator. 
Yes, we offer managed hosting services for VPS hosting as an optional add-on for both new and existing VPS products. Our server specialists provide assistance with server management, proactive monitoring, and round-the-clock advanced support. For more information on managed hosting services for VPS servers, click here. 
Yes, you can upgrade your VPS Hosting plan as your business expands. However, we do not support downgrades. 
It's the ideal time to upgrade to VPS hosting when: 
You require full root access to install and maintain your own applications on the server.

 

You need additional server resources like RAM and Disk Space that are not offered by Shared Hosting.

 

You seek the highest level of access to install and manage your own applications and policies on the server.

 

You don't want your websites/applications to be limited by the resource constraints of Shared Hosting.

 

 
Yes, you can purchase VPS Managed Services for your existing BigRock VPS Hosting plan.  
Simply follow the steps mentioned below: 
Log in to your

Control Panel

Go to Order Management View

Go to Manage Add-ons

Select 'Managed Services' from the drop-down & proceed to checkout.
Yes, we offer Acronis Cyber Backup and Recovery Solutions for your VPS hosting plan at an additional cost. It's available as an add-on when purchasing a new VPS plan. 
For existing customers, you can Acronis Cyber Backup to your VPS plan via the control panel. 
Acronis Cyber Backup generates full or incremental backups of your database, files, and mailboxes. You can set the frequency for your backups by selecting daily, weekly, or monthly.  
Acronis backup is available for USA & Asia server locations. On purchase of incremental backup volume, the new volume will be added to an existing Acronis panel (depending on the location). 
Note: Acronis Cyber Backup add-on is not covered under the money-back guarantee refund policy. The tenure & renewal cycle of Acronis backup is not dependent on the tenure of the VPS Hosting purchased. 
We help you boost your business
30-Day Money-Back Guarantee*
*30 day money back guarantee is only applicable on shared and cloud hosting