Monthly Email Hosting Plans and Pricing
Enter the number of email IDs you need on your chosen plan
Get 2 months FREE. Pay for 10 months and enjoy for a FULL year!
Increase Brand Awareness with Our Efficient Email Hosting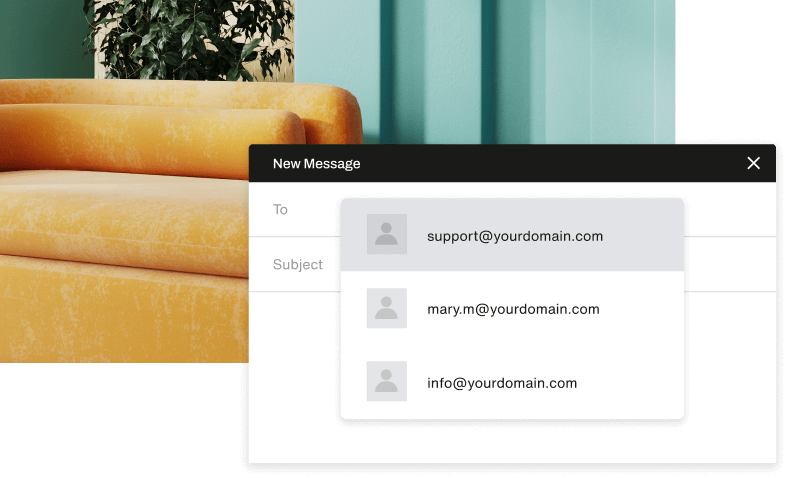 Build trust with a professional business email
Distinct business email addresses help you build stronger relationships and trust. Set up custom email addresses now to give your company the credibility and visibility it deserves. 
Get custom emails
What You Get with Your Email Hosting
5 GB Storage
+ Backup
Get 5 GB mail storage with additional storage option available on purchase. Your business emails are backed up in our state-of-the-art infrastructure so that you never lose important mails.
Intuitive and Responsive Design
Professionally designed and delivered with the power of OpenXchange. You can also access your business email on your smartphone or tablet easily.
Inbuilt Virus Protection
Our advanced anti-virus technology secures your inbox and ensures that all your important emails are protected against malware and viruses.
100% Uptime and Security
Our industry-grade mail storage guarantees zero data loss and redundancy, along with 100% network uptime. Thus, keeping your important business-related emails secure.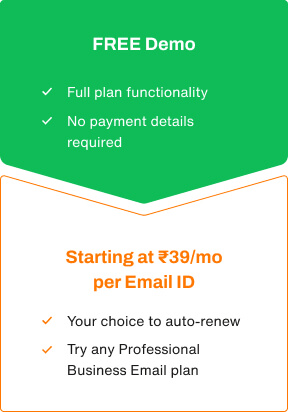 Try our demo!
Get a sneak peek of what you can get with our business email plans when you try our free demo today. 
start now for free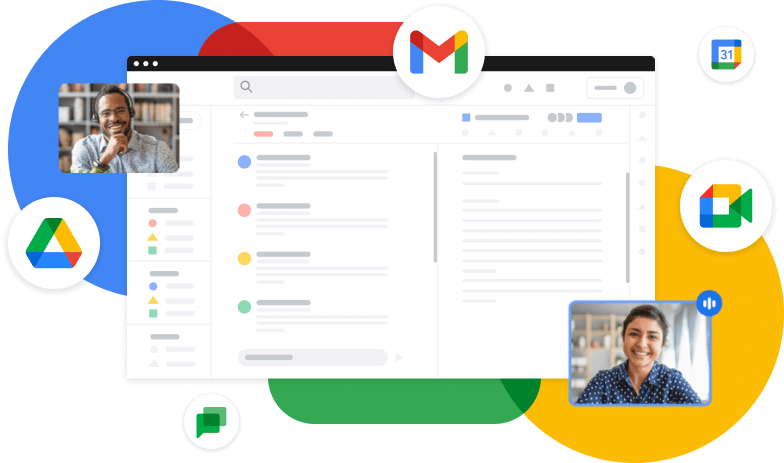 Get domain-based emails and intelligent tools for all-around productivity with Google Workspace. Subscribe today and get everything you love about Google, backed by our expert team.
Learn More
Email Hosting - Frequently Asked Questions (FAQs)
Every email service provider follows a different process when setting up their business email. At BigRock, we simplify it through the following:
A) Change your domain name's name servers 
Login to your Control Panel

 

Search for the domain where you have bought this Business Email Order and navigate to the Order Information view. 

 

Click the Name Server Details link. Here, you will find the Name Servers that you need to set for your domain. 

 
If you want to retain your domain name's name servers instead of using BigRock's name servers, you'll have to add the DNS Records listed on this page to your existing name servers. 
B) Create email accounts
Once the service is activated, you need to create email accounts to send and receive emails. You can also set up aliases, email forwards, mailing lists, and so on from your Email Administration Interface. 
C) Send and receive emails using the business email accounts
BigRock offers the following options while receiving and sending emails using the accounts that you've just created: 
Configure a desktop email client for downloading and sending emails

 

Login to the web-based interface for accessing your emails online

 
Now, you can easily send and receive emails using your business email account either through the Webmail interface or by using a desktop client. 
With best-in-class Email Hosting solutions and built-in virus protection, BigRock ensures complete security of your business email. Our advanced anti-virus technology safeguards your inbox and ensures that you are protected against viruses and malware. We use comprehensive email and messaging security solutions to provide the highest level of real-time security. 
Compared to a generic email address, a domain-based business email address offers a wide range of benefits like: 
Trust.

Show off your legitimacy with an email that matches your business or domain name. Tell customers that you mean business since you're investing in a professional email address compared to a generic Gmail or Yahoo email. 

 
Marketing.

A custom business email works as word-of-mouth advertising for your company and website. Every time you send an email, you give your business name to prospects and customers.

 
Security.

Professional email services like Business Email protects your inbox through our built-in virus protection that ensures protection from viruses and malware.

 
With numerous domain names available to combine with your username, the odds are that you can create a memorable and unique business email address. If you want to create an email ID based on your name and it isn't available, you can check if you can register the name in combination with a different domain name. Or you can try changing the order of your first and last name, or maybe adding an initial. For example, [email protected], [email protected], or [email protected]. 
Our Business Email comes with a storage space of 5GB per account (with an additional storage option available on purchase) and backup. With our dedicated storage space, you won't have to delete emails regularly, especially the important ones because storage space won't be an issue. It also backs up all your mails on our state-of-the-art infrastructure, making sure you never experience loss of emails. 
Absolutely! You can create mailing lists, add and delete users, select a moderator, and restrict and ban people from joining a list and much more. All of this information is available here.
We help you boost your business
30-Day Money-Back
Guarantee*
*30 day money back guarantee is only applicable on shared and cloud hosting